FREE SHIPPING TO US ON ALL ORDERS ABOVE $95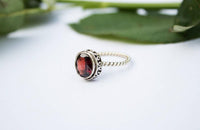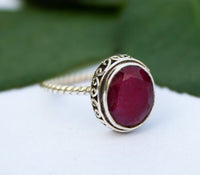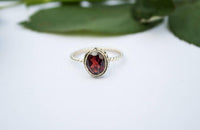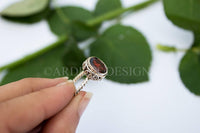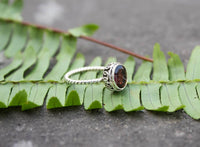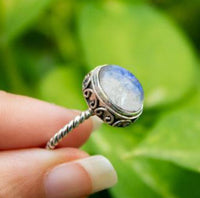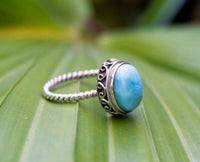 Garnet Ring, Garnet Ring Silver, January Birthstone Ring, Boho, SKU 6225
Product Info

Garnet Gemstone Ring handcrafted with 925 Sterling Silver. This has an oval shaped gemstone and a twisted band.

This can be put on any finger, but we recommend going with the middle finger as its purpose is more flashy and noticeable than the others.

All our products are handmade with customer service in mind and we use high quality material and strive to make each piece unique.

No chemicals are used in any way, the Ring is 100% eco-friendly.

Each comes with our guarantee that if for any reason you are not happy with your purchase, we will make it right. Treat yourself to this beautiful piece of jewelry today!



Garnet is the birthstone for the month of January & the gem which is gifted on the second Anniversary. Its called as the stone of regeneration & stability. The name Garnet comes from the Latin word "Granatus" meaning "seed" as it resembles with pomegranate seeds.

Materials
~ Garnet Gemstone
~ 925 Sterling Silver

 

*As these are Natural stones, the stones may vary in character, size, and color.
*Each item is handmade and thus could have slight imperfections or irregularities due to human involvement in the process.


Product Type:

Rings

Sku:

Brand:

Its Ambra
Beautiful ring!!! Arrived faster than expected. Fast response to my questions. Sizing is a little different. Could have used a half size smaller but still able to wear it on other fingers. Gorgeous ring!!!! Very happy!!!
Garnet ring appeared as expected. Definitely made for a smaller finger. Good workmanship. Just a small nick on top of bezel where apparently assembled.
Quality doesn't describe the ring, I purchased. You would have to rate it Quality The ring is beautiful and more beautiful than the picture. The ring met my expectations. The owner of this shop is also exceptional. I ran into several things I wasn't expecting so I emailed her. She promptly answered and her answers were very satisfactory. I highly recommend this jewelry shop. UPDATE: 12/25/21 This ring was a Christmas present for my grand daughter. She loved that ring. My daughter and my grand daughter were so blown away by the beauty and the quality of the ring. The garnet stone...it's quality and size was very impressive. So if anyone is hesitating on buying this ring....don't be. Buy the ring.
great product! love the details in the design. thank you!!
Very dainty and beautiful. Thank you for your quick service.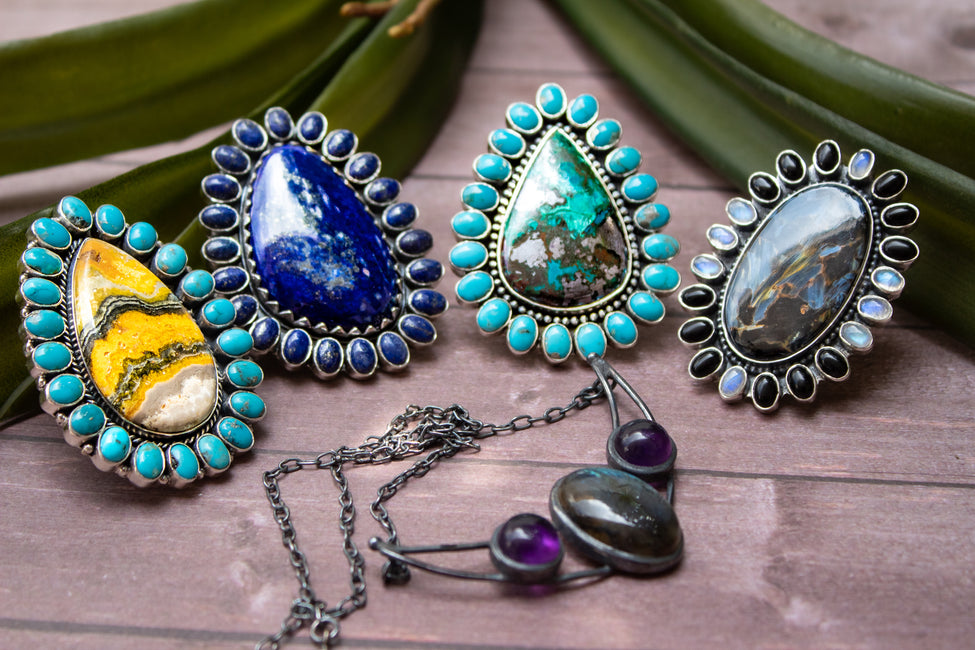 Handmade Promise
⏳ HANDCRAFTED WITHIN 3-5 BUSINESS DAYS
🔙 30 DAY RETURN POLICY
🚚 FREE US SHIPPING ON ORDERS OVER $95
💎 LAB APPROVED AUTHENTIC GEMS
❤️ MADE WITH LOVE IN INDIA